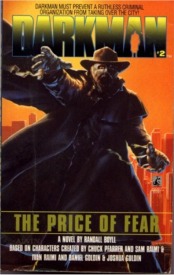 The Price of Fear is the second of the four novel miniseries from Pocket Books expanding upon the adventures of Darkman. The novel is written by Randall Boyll.
When Darkman stumbles across a plot to take control of Eastview Estates, an exclusive real estate development, he decides to put a stop to it by infiltrating the criminal organization responsible. But soon Darkman finds more than he bargained for as he becomes embroiled in a dangerous web of murder and corruption.
For little does he know that an ancient evil stalks the city, and Darkman may be it next victim...
Ad blocker interference detected!
Wikia is a free-to-use site that makes money from advertising. We have a modified experience for viewers using ad blockers

Wikia is not accessible if you've made further modifications. Remove the custom ad blocker rule(s) and the page will load as expected.