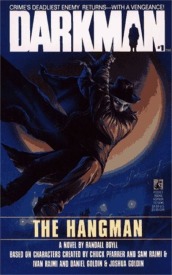 The Hangman is the first of the four novel miniseries from Pocket Books expanding upon the adventures of Darkman. The novel is written by Randall Boyll.
Now, two years later, Darkman has rebuilt his lab in an abandoned factory to continue his work. A chance encounter with a young boy leads Darkman to a new evil that's devouring the youth of the city. Darkman's rage grows once again, and he turns it toward a new enemy - an enemy that will soon learn the depth of his fury... and feel the bite of his vengeance.
Ad blocker interference detected!
Wikia is a free-to-use site that makes money from advertising. We have a modified experience for viewers using ad blockers

Wikia is not accessible if you've made further modifications. Remove the custom ad blocker rule(s) and the page will load as expected.