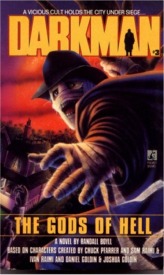 The Gods of Hell is the third of the four novel miniseries from Pocket Books expanding upon the adventures of Darkman. The novel is written by Randall Boyll.
Now, across the city, children are disappearing, and the niece of Darkman's former fiance, Julie Hastings, is the latest victim. Searching for the kidnappers, Darkman stumbles across a strange cult sacrificing the children in a quest for immortality. Forced to infiltrate the group, Darkman must confront the diabolical plan's evil mastermind, a deadly killer with a tortured past who will stop at nothing to find the secret of everlasting life...
Ad blocker interference detected!
Wikia is a free-to-use site that makes money from advertising. We have a modified experience for viewers using ad blockers

Wikia is not accessible if you've made further modifications. Remove the custom ad blocker rule(s) and the page will load as expected.